About Us – Who we are
Our names are Bill & Tricia Meier. Forever we dreamed of moving out of the city, into the mountains and building a log cabin. We searched Washington and Oregon for land that would be just the right fit for us.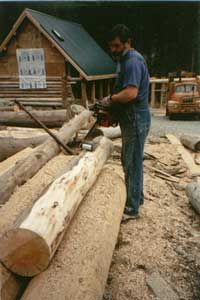 When we arrived in the Packwood area it was love-at-first-sight. Shortly after purchasing 7 acres overlooking the Cowlitz River, we packed our belonging and made the move to our present little piece of heaven.
Our original plan was to buy a log home kit, but Bill decided he wanted to master the construction himself. After purchasing a boom truck and enough logs from nearby property being logged, he was on his way. Within a few years, he constructed his first log cabin made of hard labor and love.
Our second dream was to build another cabin on our little piece of heaven so that others, like you, could also experience some of the joy we do every day. Should you decide to reserve your time here, we hope your stay is everything you dream it to be!